Provincetown Banner | August 13, 2009 | By Reva Blau
A July torpor settling in, my young son Dashiell and I headed out to see Knighthorse perform Shakespearean Jukebox, at the Baker's Field tent.
My four-year-old also had reason to be tired. He'd been to Audubon Camp, he'd been to the bay at high tide, and he'd been to PJs for a hot dog and fries. I never thought he'd make it through Shakespeare.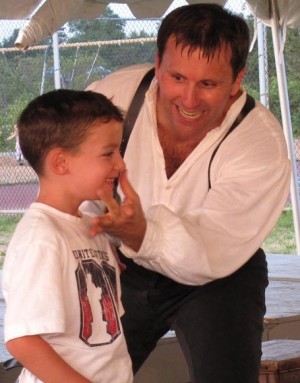 Ty did several scenes from Julius Caesar, including Marc Antony's famous speech beginning, "Friends, Romans, countrymen…." where he explained howAntony was riling up the mob in order to turn them against the conspirators.  As Ty walked about giving key elements of the rabble-rousing speech to individuals in the audience, I gave a side glance to Dash and I half expected him to charge the stage.
For Taming of the Shrew, so eager did my newly anointed Shakespearean look that Ty invited him to play Grumio alongside his Petruchio. My son was asked to put a belt with a dagger prop around his waist at which point he looked like he might faint with excitement. Dash mounted a mock horse that he galloped across the stage.  Later, Dash was asked to usheathe the dagger from his waist and flail it around in a mock battle to save his mistress, while Petruchio persists in making a mockery of his marriage to Katherina.
Dash begged to be allowed to stay for Macbeth (a lot of daggers and rapiers and witches on the side of the highway to boot) and then we stayed for Hamlet. But for my short thespian allowed to tromp on a Shakespearean stage, it was really bedtime. As we exited, I heard Ty ask the audience for a few more plays. "Richard III" someone shouted, "King Lear," said another. "Sure," said Ty. "Richard III, OK. Let's do one more."
Recent Posts
Knighthorse on Flickr
Here are the recent photos from our events. Feel free to comment on our flickr page.

Levels of support are:
King and Queen

$5,000+
Lord and Lady

$1,000 - $5,000
Knight

$500 - $1000
Squire

$100 - $500
Page

$1 - $100
Donation Wall
Kings and Queens
Margaret Wollen-Olson

Anonymous
Lords and Ladies
John and Martha McLaughlin
Knights
Advanced Resource Management

The Connor Family
Squires
Pat Orr

Viola MacDonald

Albert Hoffman
Pages
Mark and Mary White

John and Carol Whippen

Florene Poyadue

Tim and Martha Ann Thompson

Frank and Suzanne Thomas

Kristina Smarz

Patrick and Sneha Scully

Liam and Cindy Scully

Norm and Eileen Schacochis

Fred and Eleanor Sabini

James and Kaitlin Reilly

Carl and Margaret Rasmussen

John and Ann Murphy

Todd Morse

Sally McLaughlin

Mike and Chris McLaughlin

Dave and Mary Ann Manning

Sheila Lyons

Lloyd Lemerande

Chris and Darlene Jones

Barbara Grey

Linda Greaney

John and Elva Gloster

Dick Gardner

Debbie Ford

Sal and Kathy Faletra

Mark and Kathie Faletra

Lisa Faletra

Ron Farnum

Glenna Connors

Tommy and Linda Carney

Kevin and Susan Carney