Boston Globe | November 28, 2011 | By Joseph P. Kahn
Tyrus Lemerande opened his one-man "Shakespeare on Demand" show last month with a taste of "As You Like It." He followed with snippets of "Romeo and Juliet," "King Henry V," and several other plays, concluding with Prospero's final speech from "The Tempest.''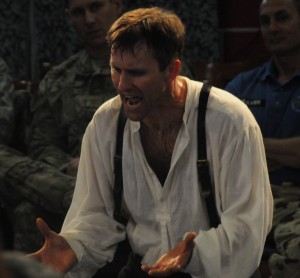 Lemerande, drenched in sweat, earned a standing ovation from an unlikely audience for his two-hour tour de force: high-ranking military officers, US embassy personnel, and enlisted men and women from a dozen countries, all sitting in an Afghan war zone.
"When you do 'Henry V' for a roomful of men in uniform with guns on their hips and M-9s under their chairs, it takes on a whole different meaning," said the 42-year-old Navy commander from Scituate, speaking via Skype from Kabul.
Lemerande, a Navy Reserve officer, was performing – on his own time – at International Security Assistance Force headquarters in Afghanistan, where he has been stationed as a public affairs officer since May.
A typical show at the base might feature a television star or Hollywood actor, accompanied by a group like the Dallas Cowboys cheerleaders. "Hamlet''? Not so much.
But nearly 500 uniformed men and women have heard his soaring soliloquies ("To be or not to be …''), marveled at his pantomime sword fights, and listened raptly to his rendition of the stirring "band of brothers'' speech ("For he that sheds his blood with me/Shall be my brother'') from "Henry V.''
Calling last month's show "one of the coolest nights of my life,'' Lemerande said that exposing his military brethren to Shakespeare, hardly standard entertainment fare on most military outposts, is a honor he will not soon forget.
His wife, Amy McLaughlin Lemerande, 36, a Marshfield native, joined the Skype conversation from the couple's Scituate home. Together they run the Knighthorse Theatre Company, a nonprofit organization that brings Shakespeare's works into schools across the United States.
Among those attending Lemerande's "Hamlet'' was Vice Admiral Tony Johnstone-Burt of the British Royal Navy. In an e-mail, he raved about the passion and energy Lemerande brought to a play that would tax the stamina of most full-fledged theater companies.
"We were all glued to our seats,'' Johnstone-Burt wrote. Compared with other shows at ISAF headquarters, this one "easily outshone anything else by a country mile.''
Lemerande completes his six-month deployment this month. He'll be home by mid-December, reunited with his wife and 2-year-old son, Declan. For him, Afghanistan has not been a particularly dangerous assignment. His primary task: dealing with press representatives from 48 nations, not land mines and sniper fire.
Kabul is relatively secure, he acknowledged, but bombings do occur. More distressing has been the country's high degree of poverty and illiteracy, factors that will probably have a huge impact on Afghanistan's future once US troops withdraw.
Combining military training with theater is nothing new for Lemerande. At the US Naval Academy, from which he graduated in 1994, he did some acting. Later, after earning a master's degree from Penn State University, he joined a touring Shakespeare company, where he met his future wife.
Lemerande reenlisted in the Navy reserves after 9/11. He and Amy performed "Henry V'' as a two-person show on several military bases in Europe. On one such trip, they went into schools serving Defense Department families. One class thanked the couple for making Shakespeare "cool,'' a mantra they've since adopted for their theater company.
Knighthorse, said Amy, is "a way to combine our love of performing with our love of teaching, of theater, and of each other.''
Afghanistan is Lemerande's first overseas posting as a reservist. For the past five summers, the couple had been performing free Shakespeare shows on Cape Cod. With her husband away last summer, Amy agreed to push on without him.
In a show of solidarity, Lemerande decided that he, too, would stage free Shakespeare for whoever wanted it.
Once Lemerande got the go-ahead, he papered the base with show posters. To his surprise, 300 people showed up that night. "The great thing about the play is, even if you don't know Shakespeare, everybody knows Hamlet,'' he said.
"Henry V'' may not be as familiar to most, he added, but to a military audience, the play's emotional impact can be unusually powerful.
"I believe this play is about honor and loyalty. It's not pro-war or antiwar. When I do that 'band of brothers' speech, I tell audiences that they won that day not because they were fighting for God or king or country. They were fighting for each other, the guy to their left and the guy to their right.''
Back home, Lemerande said, his audiences tend to be politically liberal, with little personal connection to the military. "When people found out I was going to Afghanistan, they literally fell off their chairs,'' he said. "They'd ask me what I think about the war there, and I'd say, 'I don't know about the war. But I do know about the men and women over there fighting it. I've been one of them. They're good people, doing what their country asked them to do.' ''
During his six months in Kabul, he and Amy have maintained contact via Skype on a near-daily basis. When she was doing her one-woman Shakespeare shows last summer, he was helping her get mentally prepared. She was right beside him, too, as he prepped for "Shakespeare on Demand,'' a challenging mix of improv and classical Elizabethan theater.
About resuming his duties with Knighthorse, he said, "If kids bring up Afghanistan, I'll talk about it. I'll tell them, 'Whether you believe in the war itself, you have to believe in the men and women fighting it. Because they're just like you – kids looking for a better life.' ''
Joseph P. Kahn can be reached at jkahn@globe.com.
Recent Posts
Knighthorse on Flickr
Here are the recent photos from our events. Feel free to comment on our flickr page.

Levels of support are:
King and Queen

$5,000+
Lord and Lady

$1,000 - $5,000
Knight

$500 - $1000
Squire

$100 - $500
Page

$1 - $100
Donation Wall
Kings and Queens
Margaret Wollen-Olson

Anonymous
Lords and Ladies
John and Martha McLaughlin
Knights
Advanced Resource Management

The Connor Family
Squires
Pat Orr

Viola MacDonald

Albert Hoffman
Pages
Mark and Mary White

John and Carol Whippen

Florene Poyadue

Tim and Martha Ann Thompson

Frank and Suzanne Thomas

Kristina Smarz

Patrick and Sneha Scully

Liam and Cindy Scully

Norm and Eileen Schacochis

Fred and Eleanor Sabini

James and Kaitlin Reilly

Carl and Margaret Rasmussen

John and Ann Murphy

Todd Morse

Sally McLaughlin

Mike and Chris McLaughlin

Dave and Mary Ann Manning

Sheila Lyons

Lloyd Lemerande

Chris and Darlene Jones

Barbara Grey

Linda Greaney

John and Elva Gloster

Dick Gardner

Debbie Ford

Sal and Kathy Faletra

Mark and Kathie Faletra

Lisa Faletra

Ron Farnum

Glenna Connors

Tommy and Linda Carney

Kevin and Susan Carney