The Patriot Ledger | February 5, 2004 | By Shamus McGillicuddy
It isn't easy for teenagers to read the work of William Shakespeare and understand it.  They can pour over pages of the 400-year-old verse for hours and still make no sense of it.  Amy McLaughlin can relate.  The 1993 Marshfield High School graduate said the grades she earned while studying Shakespeare in high school were less than stellar.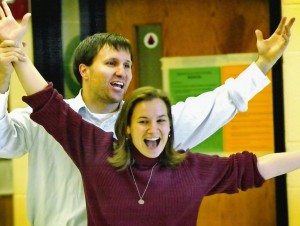 "Shakespeare was meant to be heard and seen, not read," McLaughlin said.
With that in mind, McLaughlin and her husband-to-be, Tyrus Lemerande, founded the nonprofit Knighthorse Theatre Company.  The traveling two-person troupe performs condensed versions of Shakespeare's classic plays for students in middle, high school and college.
"Our goal is make Shakespeare accessible," Lemerande said.
Last week, the couple, both of whom hold master's degrees in acting and theatre arts, traveled to Marshfield High School, where Lemerande performed a one-man version of Henry V.
They also perform two-person versions of several other Shakespeare plays.
Although his performance condenses the play, Lemerande stressed that he isn't offering students a facile version of Henry V.
"It's more about using Henry V as a vehicle to get kids excited about Shakespeare in general and to spark discussion," he said.
The Knighthorse Theatre Company travels from school to school, helping students get a firm grasp on Shakespeare's language.  Lemerande and McLaughlin say they try to open a window into the playwright's work in hopes that it will enable the students to enjoy the play not only as literature but as entertainment.
Recent Posts
Knighthorse on Flickr
Here are the recent photos from our events. Feel free to comment on our flickr page.

Levels of support are:
King and Queen

$5,000+
Lord and Lady

$1,000 - $5,000
Knight

$500 - $1000
Squire

$100 - $500
Page

$1 - $100
Donation Wall
Kings and Queens
Margaret Wollen-Olson

Anonymous
Lords and Ladies
John and Martha McLaughlin
Knights
Advanced Resource Management

The Connor Family
Squires
Pat Orr

Viola MacDonald

Albert Hoffman
Pages
Mark and Mary White

John and Carol Whippen

Florene Poyadue

Tim and Martha Ann Thompson

Frank and Suzanne Thomas

Kristina Smarz

Patrick and Sneha Scully

Liam and Cindy Scully

Norm and Eileen Schacochis

Fred and Eleanor Sabini

James and Kaitlin Reilly

Carl and Margaret Rasmussen

John and Ann Murphy

Todd Morse

Sally McLaughlin

Mike and Chris McLaughlin

Dave and Mary Ann Manning

Sheila Lyons

Lloyd Lemerande

Chris and Darlene Jones

Barbara Grey

Linda Greaney

John and Elva Gloster

Dick Gardner

Debbie Ford

Sal and Kathy Faletra

Mark and Kathie Faletra

Lisa Faletra

Ron Farnum

Glenna Connors

Tommy and Linda Carney

Kevin and Susan Carney