Provincetown Banner | April 15, 2006 | By Sue Harrison
Ty and Amy Lemerande, the husband-and-wife team who perform impromptu bits from nearly 40 of Shakespeare's best-known plays, bring chemistry, dynamic stagings, pathos and a whole lot of fun to their Knighthorse Theatre Company productions.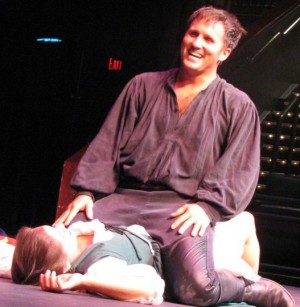 If the last time you encountered Shakespeare was during some punishing high school reading of Julius Caesar or Romeo and Juliet, hold on to your hat.  This is nothing like that.  Nor is it some stodgy, reverential production of Shakespeare.  This is dazzling, big fun that will keep your eyes glued to the stage for almost two and a half hours and will leave you thinking you should try to get back for another night.  In short, it is magical.
Ty and Amy, working with a small number of props, notably a stool, a few daggers and swords and a couple of hot Shakespearean-era costumes, stand a deliver anything the audience asks for.
Ty describes the jukebox principle by telling the audience it's like the time when you could drop in some money and hear your favorite songs over and over, only this time it's your favorite bits of Shakespeare.  It's challenging for them, he says, since they walk out and never know what they will be performing for the next couple of hours.
Throughout the evening, Ty and Amy work closely with their audience, sometimes walking over to talk directly to someone or sitting by them for a while.  A couple of folks even got invited to take a line here and there.
They have great chemistry and individually they sizzle in their respective roles.
Ty Lemerande is a little like a young Mick Jagger spouting Shakespeare instead of rock lyrics.  He looks good, he knows it and he works it, strutting, sauntering and occasionally letting his vulnerable side show through.  He coaxes smiles with his bravado and humor and then shifts gears to drop to his knees and deliver a powerful soliloquy.  He turns his booming voice into a desperate rasp and transforms his strong body into a twisted shadow of itself that limps crablike around the stage.
His is always a very physical performance, and when his wife joins him she matches his energy level with a fire of her own.  They joke between plays and the audience is willing to follow them down any theatrical path they take.
Recent Posts
Knighthorse on Flickr
Here are the recent photos from our events. Feel free to comment on our flickr page.

Levels of support are:
King and Queen

$5,000+
Lord and Lady

$1,000 - $5,000
Knight

$500 - $1000
Squire

$100 - $500
Page

$1 - $100
Donation Wall
Kings and Queens
Margaret Wollen-Olson

Anonymous
Lords and Ladies
John and Martha McLaughlin
Knights
Advanced Resource Management

The Connor Family
Squires
Pat Orr

Viola MacDonald

Albert Hoffman
Pages
Mark and Mary White

John and Carol Whippen

Florene Poyadue

Tim and Martha Ann Thompson

Frank and Suzanne Thomas

Kristina Smarz

Patrick and Sneha Scully

Liam and Cindy Scully

Norm and Eileen Schacochis

Fred and Eleanor Sabini

James and Kaitlin Reilly

Carl and Margaret Rasmussen

John and Ann Murphy

Todd Morse

Sally McLaughlin

Mike and Chris McLaughlin

Dave and Mary Ann Manning

Sheila Lyons

Lloyd Lemerande

Chris and Darlene Jones

Barbara Grey

Linda Greaney

John and Elva Gloster

Dick Gardner

Debbie Ford

Sal and Kathy Faletra

Mark and Kathie Faletra

Lisa Faletra

Ron Farnum

Glenna Connors

Tommy and Linda Carney

Kevin and Susan Carney