The Cape Codder | April 28, 2006 | By Rebecca Alvin
Shakespearean Jukebox is no ordinary night of theatre.  The actors, who are married in real life, bring the works of Shakespeare to us via specific scenes in various plays.  The audience is seated around a few dining tables, offered coffee, tea, baklava, and other treats, and given a small menu from which they may select the plays they want to see performed.  This is truly interactive theater.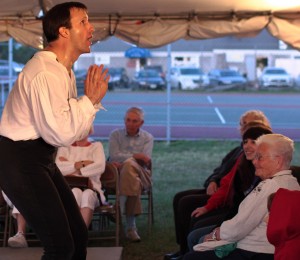 The menu offers selections divided into subcategories of Romances, Comedies, Tragedies and Histories – not unlike the offerings from your cable company in its "On Demand" section.
On the night I saw the performance, we were treated to a dozen scenes, all from different Shakespeare plays, all requested by audience members.
Putting the novelty of the situation aside, the performances of this duo are excellent interpretations of the bard's work.  Ty moves easily from Romeo to Aaron the Moor, in each instance bringing his character to life adeptly and uniquely.  Amy is excellent in her range from the teenaged Juliet to Kate ("the shrew") and the dark and intense Lady Macbeth.
As if great performances, theater on demand and coffee and cake were not enough, the duo adds an educational component to the evening, explaining the context for each scene as they perform it, and offering insights into the layers of meaning in each.  Together, they make up the Knighthorse Theatre Company, a non-profit organization that strives to bring theatre to schools, senior centers and other community spaces in the hopes of "making Shakespeare cool again."  On this night, our audience ranged in age from high schoolers to octogenarians and all were clearly entertained, moved and intellectually stimulated by these dedicated actors.
Recent Posts
Knighthorse on Flickr
Here are the recent photos from our events. Feel free to comment on our flickr page.

Levels of support are:
King and Queen

$5,000+
Lord and Lady

$1,000 - $5,000
Knight

$500 - $1000
Squire

$100 - $500
Page

$1 - $100
Donation Wall
Kings and Queens
Margaret Wollen-Olson

Anonymous
Lords and Ladies
John and Martha McLaughlin
Knights
Advanced Resource Management

The Connor Family
Squires
Pat Orr

Viola MacDonald

Albert Hoffman
Pages
Mark and Mary White

John and Carol Whippen

Florene Poyadue

Tim and Martha Ann Thompson

Frank and Suzanne Thomas

Kristina Smarz

Patrick and Sneha Scully

Liam and Cindy Scully

Norm and Eileen Schacochis

Fred and Eleanor Sabini

James and Kaitlin Reilly

Carl and Margaret Rasmussen

John and Ann Murphy

Todd Morse

Sally McLaughlin

Mike and Chris McLaughlin

Dave and Mary Ann Manning

Sheila Lyons

Lloyd Lemerande

Chris and Darlene Jones

Barbara Grey

Linda Greaney

John and Elva Gloster

Dick Gardner

Debbie Ford

Sal and Kathy Faletra

Mark and Kathie Faletra

Lisa Faletra

Ron Farnum

Glenna Connors

Tommy and Linda Carney

Kevin and Susan Carney