Pioneer Press | August 9, 2005 | By Rob Hubbard
If allowing the music of Shakespeare's words to carry you away and watching his characters brought to vivid life sounds like an exhilarating break from most Fringe fare, then you should really see [Such Stuff As Dreams Are Made On].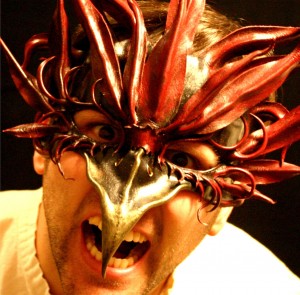 The Massachusetts-based husband-and-wife team of Tyrus Lemerande and Amy McLaughlin Lemerande do [The Tempest] with astounding energy and a palpable passion for the work, slipping from character to character in extraordinary fashion. It's a play about creating magic, and this show is a reminder of the magic that theater can offer with only magnificent words and outstanding acting.
Recent Posts
Knighthorse on Flickr
Here are the recent photos from our events. Feel free to comment on our flickr page.

Levels of support are:
King and Queen

$5,000+
Lord and Lady

$1,000 - $5,000
Knight

$500 - $1000
Squire

$100 - $500
Page

$1 - $100
Donation Wall
Kings and Queens
Margaret Wollen-Olson

Anonymous
Lords and Ladies
John and Martha McLaughlin
Knights
Advanced Resource Management

The Connor Family
Squires
Pat Orr

Viola MacDonald

Albert Hoffman
Pages
Mark and Mary White

John and Carol Whippen

Florene Poyadue

Tim and Martha Ann Thompson

Frank and Suzanne Thomas

Kristina Smarz

Patrick and Sneha Scully

Liam and Cindy Scully

Norm and Eileen Schacochis

Fred and Eleanor Sabini

James and Kaitlin Reilly

Carl and Margaret Rasmussen

John and Ann Murphy

Todd Morse

Sally McLaughlin

Mike and Chris McLaughlin

Dave and Mary Ann Manning

Sheila Lyons

Lloyd Lemerande

Chris and Darlene Jones

Barbara Grey

Linda Greaney

John and Elva Gloster

Dick Gardner

Debbie Ford

Sal and Kathy Faletra

Mark and Kathie Faletra

Lisa Faletra

Ron Farnum

Glenna Connors

Tommy and Linda Carney

Kevin and Susan Carney