The Scotsman | August 14, 2004 | By Zoe Green
[Tyrus Lemerande's] one-man production of Henry V is a moving, visceral adaptation with the best fight scene I've witnessed. There's no need for any other actors: he recreates the melee around him, the chaos, the gore; you can see heads rolling, you can smell the carnage.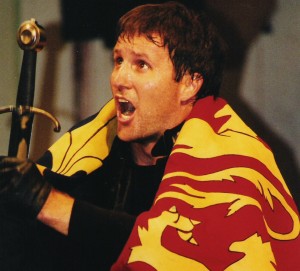 Lemerande has presence and charisma but, at the same time, manages to render Henry a humane king. He says that he shares Henry's ideals of honor, duty and an unwavering faith in God, and he certainly puts every part of himself into the character.
The stage is very small and, as a result, this is a very intimate production. Lemerande plays on this by giving the audience the impression that they too are characters in the play. It is a tactile performance and although the lighting initially seems too bright, it has a function, which is to give the audience the impression that this drama is part of the space they inhabit. There is no boundary between actor and audience, which is what makes this performance so vivid.  A phenomenal performance.
Recent Posts
Knighthorse on Flickr
Here are the recent photos from our events. Feel free to comment on our flickr page.

Levels of support are:
King and Queen

$5,000+
Lord and Lady

$1,000 - $5,000
Knight

$500 - $1000
Squire

$100 - $500
Page

$1 - $100
Donation Wall
Kings and Queens
Margaret Wollen-Olson

Anonymous
Lords and Ladies
John and Martha McLaughlin
Knights
Advanced Resource Management

The Connor Family
Squires
Pat Orr

Viola MacDonald

Albert Hoffman
Pages
Mark and Mary White

John and Carol Whippen

Florene Poyadue

Tim and Martha Ann Thompson

Frank and Suzanne Thomas

Kristina Smarz

Patrick and Sneha Scully

Liam and Cindy Scully

Norm and Eileen Schacochis

Fred and Eleanor Sabini

James and Kaitlin Reilly

Carl and Margaret Rasmussen

John and Ann Murphy

Todd Morse

Sally McLaughlin

Mike and Chris McLaughlin

Dave and Mary Ann Manning

Sheila Lyons

Lloyd Lemerande

Chris and Darlene Jones

Barbara Grey

Linda Greaney

John and Elva Gloster

Dick Gardner

Debbie Ford

Sal and Kathy Faletra

Mark and Kathie Faletra

Lisa Faletra

Ron Farnum

Glenna Connors

Tommy and Linda Carney

Kevin and Susan Carney