The Mashpee Enterprise | May 9, 2008 | By Grace Polizzotti
How often have we observed a couple and secretly (or not so secretly) commented, "What does he/she see in her/him?" 
But not this time!  The Capers' April in-house program presented at the Mashpee Senior Center introduced us to a couple who were attractive and winsome.  The phrase, "Love at first sight" came to mind as well as a quote from King Lear: "She is herself a dowry."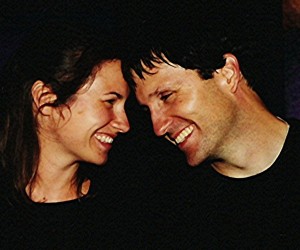 And what did this delightful couple do?  They presented a program called the Shakespearean Jukebox.  Lest the Shakespeare part of the title scare anyone; hold on!  Don't let memories of negative school assignments prejudice you.
Amy McLaughlin and her husband of four years, Tyrus Lemerande, had us encircling them on three sides so that we, the audience, could enjoy an intimate, shared, dramatic experience.  A list of Shakespeare's 38 plays was distributed and we called out our favorites.  From these, choice scenes were acted out.
We were delighted to witness scenes from Richard II, Julius Caesar, Antony and Cleopatra, and The Tempest.  But the most active of the [stagings] was The Taming of the Shrew.  If the mayhem that Mr. Lemerande and Ms. McLaughlin endured wouldn't turn on a class of school kids, nothing would.
One could entitle the program, "The Best of Shakespeare."  You listen and watch the presentation of plum orations and soliloquies as one listens to favorite arias from well-known operas, but add to that the interaction with the audience.  Even my usually reticent husband not only enjoyed having a line as [Kate's father] Baptista but came home and said he should have added one more line.  He's bitten!  Isn't that called "padding the script?"
Shakespeare said, "They do not love that do not show their love."  And we have to say that Ms. McLaughlin and Mr. Lemerande definitely showed their love in their art.  There wasn't a negative comment possible by the members.
Recent Posts
Knighthorse on Flickr
Here are the recent photos from our events. Feel free to comment on our flickr page.

Levels of support are:
King and Queen

$5,000+
Lord and Lady

$1,000 - $5,000
Knight

$500 - $1000
Squire

$100 - $500
Page

$1 - $100
Donation Wall
Kings and Queens
Margaret Wollen-Olson

Anonymous
Lords and Ladies
John and Martha McLaughlin
Knights
Advanced Resource Management

The Connor Family
Squires
Pat Orr

Viola MacDonald

Albert Hoffman
Pages
Mark and Mary White

John and Carol Whippen

Florene Poyadue

Tim and Martha Ann Thompson

Frank and Suzanne Thomas

Kristina Smarz

Patrick and Sneha Scully

Liam and Cindy Scully

Norm and Eileen Schacochis

Fred and Eleanor Sabini

James and Kaitlin Reilly

Carl and Margaret Rasmussen

John and Ann Murphy

Todd Morse

Sally McLaughlin

Mike and Chris McLaughlin

Dave and Mary Ann Manning

Sheila Lyons

Lloyd Lemerande

Chris and Darlene Jones

Barbara Grey

Linda Greaney

John and Elva Gloster

Dick Gardner

Debbie Ford

Sal and Kathy Faletra

Mark and Kathie Faletra

Lisa Faletra

Ron Farnum

Glenna Connors

Tommy and Linda Carney

Kevin and Susan Carney