Cape Cod Life Magazine | Spring 2008 | By Tom Keer
If Shakespeare's Romeo and Juliet had lived happily ever they would have founded the Knighthorse Theatre Company.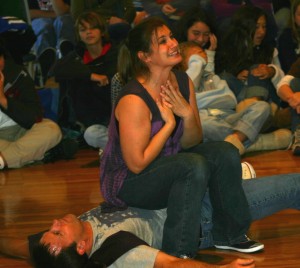 In an ending contrary to the Bard's tragic tales, that is precisely what happened when Tyrus Lemerande, a Californian, met Amy McLaughlin of Marshfield.  After completing master's degrees in fine arts in theatre—his from Penn State and hers from the Trinity Rep Conservatory—fate brought them to Shenandoah Shakespeare Express, a traveling acting troupe based in Virginia  Lemerande and McLaughlin were cast as Romeo and Juliet and a true-to-life love story ensued.  The former football standout and U.S. Naval Reserve Lieutenant Commander married the professional actress shortly thereafter.
But even before they tied the knot, the couple bound themselves to each other in the summer of 2003 by founding Knighthorse Theatre Company.  The couple wanted to spend more time acting and less time with the bureaucracy of a large reparatory company.
"We want the audience to see what we see," Tyrus said.  "Shakespeare's themes are archetypical and they are as relevant today as they were in the 1500s.  We work hard to understand him, and our goal is to help our audience understand."
The traveling troupe performs throughout theUnited States as well as in venues overseas.  School systems, typically high schools and colleges, hire Knighthorse to supplement their curriculum.  In classroom workshops, they work with students to enlighten specific plays.
The company's Shakespearean Jukebox is a frequently requested performance.  In it, the audience requests a particular play and Ty and Amy spring into action, moments later the Bard's words and themes come to life.  It is like a jukebox in that they move from scene to scene, from work to work, in an impressive display of Bardology.
Knighthorse's minimalist stage, lighting and costume design, is a departure from the big budgets typically associated with Shakespearean products.  The couple travels with a few period costumes and a trunk of props.  Performances are reminiscent of the Total Theater tradition, initiated in classic Greek theater and advanced by Richard Wagner; the actors are completely immersed with their audience.  It's common to see them step off the stage and into the crowd, to request audience participation, or to escort brave volunteers onto their stage.  In a nutshell, they are the proverbial one-man (and one-woman) band.
Morgan Wolfe, a Cape Cod elementary school student, experienced Shakespeare for the first time at Knighthorse's performance overlooking Mayo Beach.  "They were funny, had lots of energy, and I couldn't wait to see what came next," said Wolfe.  "They picked me out of the crowd to remind Romeo that he needed to return to Juliet.  I was nervous and excited, all at the same time."
Becky Rosenberg, the Director of the Wellfleet Recreation Department, says "'Free Shakespeare on the Beach' is our biggest event of the year.  Ty and Amy play to the biggest crowds of the summer."
For centuries, Shakespeare has frustrated students young and old alike.  If you're one of them, check out a Knighthorse Theatre Company production.  Odds are you'll dig out your dusty textbooks and read with renewed vigor.  It goes without saying that a Knighthorse production guarantees you won't need Cliff's Notes.
Recent Posts
Knighthorse on Flickr
Here are the recent photos from our events. Feel free to comment on our flickr page.

Levels of support are:
King and Queen

$5,000+
Lord and Lady

$1,000 - $5,000
Knight

$500 - $1000
Squire

$100 - $500
Page

$1 - $100
Donation Wall
Kings and Queens
Margaret Wollen-Olson

Anonymous
Lords and Ladies
John and Martha McLaughlin
Knights
Advanced Resource Management

The Connor Family
Squires
Pat Orr

Viola MacDonald

Albert Hoffman
Pages
Mark and Mary White

John and Carol Whippen

Florene Poyadue

Tim and Martha Ann Thompson

Frank and Suzanne Thomas

Kristina Smarz

Patrick and Sneha Scully

Liam and Cindy Scully

Norm and Eileen Schacochis

Fred and Eleanor Sabini

James and Kaitlin Reilly

Carl and Margaret Rasmussen

John and Ann Murphy

Todd Morse

Sally McLaughlin

Mike and Chris McLaughlin

Dave and Mary Ann Manning

Sheila Lyons

Lloyd Lemerande

Chris and Darlene Jones

Barbara Grey

Linda Greaney

John and Elva Gloster

Dick Gardner

Debbie Ford

Sal and Kathy Faletra

Mark and Kathie Faletra

Lisa Faletra

Ron Farnum

Glenna Connors

Tommy and Linda Carney

Kevin and Susan Carney