Cape Cod Times | August 6, 2006 | By Stephanie Bergeron
Shakespeare wrote The Tempest for a cast of 12. The Knighthorse Theatre Company does it with only two.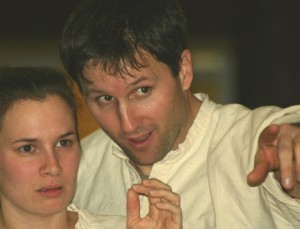 Tyrus Lemerande and Amy McLaughlin Lemerande put their own humorous twist on the tale by interacting with audience members and playing all 12 characters themselves.
At first glance, it seems a little schizophrenic. Tyrus plays the powerful Prospero one minute and a drunken Stefano the next. Amy is both the naive Miranda and the mysterious Ariel.
Fortunately, it is easy to decipher between characters because of the versatility of the pair's acting abilities. Amy can easily switch from Trinculo the jester to whimsy Ariel. Tyrus plays a dumb-founded slave Caliban and a hilarious drunk Stefano.
The set is bare and the two use very few props. Their costumes are also very simple. Instead of expensive special effects, the actors use exaggerated movements and loud voices. They run through the aisles and use the entire theater as their stage.  Audiences feel like they are part of the show instead of just spectators.  The show is packed with action and enthusiasm and audience members will never find themselves looking down at their watches.
Recent Posts
Knighthorse on Flickr
Here are the recent photos from our events. Feel free to comment on our flickr page.

Levels of support are:
King and Queen

$5,000+
Lord and Lady

$1,000 - $5,000
Knight

$500 - $1000
Squire

$100 - $500
Page

$1 - $100
Donation Wall
Kings and Queens
Margaret Wollen-Olson

Anonymous
Lords and Ladies
John and Martha McLaughlin
Knights
Advanced Resource Management

The Connor Family
Squires
Pat Orr

Viola MacDonald

Albert Hoffman
Pages
Mark and Mary White

John and Carol Whippen

Florene Poyadue

Tim and Martha Ann Thompson

Frank and Suzanne Thomas

Kristina Smarz

Patrick and Sneha Scully

Liam and Cindy Scully

Norm and Eileen Schacochis

Fred and Eleanor Sabini

James and Kaitlin Reilly

Carl and Margaret Rasmussen

John and Ann Murphy

Todd Morse

Sally McLaughlin

Mike and Chris McLaughlin

Dave and Mary Ann Manning

Sheila Lyons

Lloyd Lemerande

Chris and Darlene Jones

Barbara Grey

Linda Greaney

John and Elva Gloster

Dick Gardner

Debbie Ford

Sal and Kathy Faletra

Mark and Kathie Faletra

Lisa Faletra

Ron Farnum

Glenna Connors

Tommy and Linda Carney

Kevin and Susan Carney