Provincetown Banner | August 16, 2008 | By Reva Blau
Knighthorse Theater Company, a collaboration of Amy and Tyrus Lemerande, brings life, fire and romance to Shakespeare in front of audiences around the country in their two-person productions.  Ty and Amy deliver the plays with unrivaled joy, passion and bravura. They bring out the raw emotion even while spewing forth the oceanic breadth of Shakespeare's language.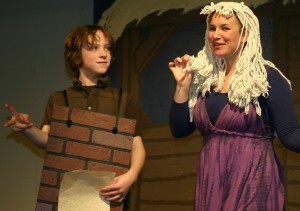 In Jukebox, the Lemerandes ask the audience to shout out some favorite Shakespeare plays. They give you what they call a "cheat sheet," which includes about 40 — yes, 40! — plays: comedies, tragedies, histories and romances, including little-known ones like Timon of Athens, Pericles and Cymbeline. Already, the audience is vastly humbled.
A week ago, the suggestions included Merchant of Venice and Antony and Cleopatra, followed by A Midsummer Night's Dream, which Ty described as "a frothy comedy ending in marriage and babies."  The husband-and-wife ensemble then created a hilarious synopsis that had people literally bending over laughing, before launching into several scenes from the play.
One trick which both apply to wonderful effect is to throw in a contemporary expression every once in awhile. The lovers might be said to "text message" or Demetrius squeals "chest hair!" when his indefatigable suitor has taken too amorous a grip. But what these anachronisms do is let us know how little humans have changed since Shakespeare's time.
Recent Posts
Knighthorse on Flickr
Here are the recent photos from our events. Feel free to comment on our flickr page.

Levels of support are:
King and Queen

$5,000+
Lord and Lady

$1,000 - $5,000
Knight

$500 - $1000
Squire

$100 - $500
Page

$1 - $100
Donation Wall
Kings and Queens
Margaret Wollen-Olson

Anonymous
Lords and Ladies
John and Martha McLaughlin
Knights
Advanced Resource Management

The Connor Family
Squires
Pat Orr

Viola MacDonald

Albert Hoffman
Pages
Mark and Mary White

John and Carol Whippen

Florene Poyadue

Tim and Martha Ann Thompson

Frank and Suzanne Thomas

Kristina Smarz

Patrick and Sneha Scully

Liam and Cindy Scully

Norm and Eileen Schacochis

Fred and Eleanor Sabini

James and Kaitlin Reilly

Carl and Margaret Rasmussen

John and Ann Murphy

Todd Morse

Sally McLaughlin

Mike and Chris McLaughlin

Dave and Mary Ann Manning

Sheila Lyons

Lloyd Lemerande

Chris and Darlene Jones

Barbara Grey

Linda Greaney

John and Elva Gloster

Dick Gardner

Debbie Ford

Sal and Kathy Faletra

Mark and Kathie Faletra

Lisa Faletra

Ron Farnum

Glenna Connors

Tommy and Linda Carney

Kevin and Susan Carney